Dear Tourists,
A thousands of Kashmiri's are awaiting you from an eager to enthusiastically Welcome. To Share this Colorful moments, sights and sounds with you Shah Travels Pvt. Ltd. are at your disposal to make your stay memorable one in the state of Jammu & Kashmir.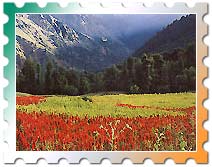 Our highly educated and experienced team are always at your disposal to make your holidays a beautiful souvenir in your life. They are always be pleased to assist you in arranging your requirements for sightseeing tours, accommodation in luxurious houseboats and hotels, Darshan at "Mata Vishno Devi" or arrangements for the "Amarnath Ji Yatra". Reservations and reconfirmations of air tickets, etc.
No detail is smaller for us and nor any assignment is too big for us, we always treat our assignments as a challenge and we prove our worth. One of our main objectives, is to have a regular returned business and we are proud in achieving it.
Shah Travels Pvt. Ltd. is the name for a trouble free and Charmful tours always with our experienced staff and chauffeurs. Our office is fully equipped to handle you right from your arrival till final Departure in this beautiful Vale and Ladakh.
Basheer Ahmed Shah
Chairman & Managing Director