Katra Tourist Destinations
Katra serves as the base camp for pilgrims who visit Vaishno Devi.
one should not miss the opportunity to walk through the main bazaar (market) for buying (do not forget/hesitate to negotiate a bit) souvenirs, dryfruits, woolen garments, hosiery, leather jackets, etc.
Places of Interest Katra
Vaishno Devi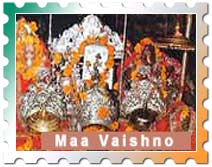 The holy shrine of Mata Vaishno Devi is situated at a distance of fourteen kilometers from Katra. From Katra, one has to trek uphill to reach the destined shrine. Located a top
Mount Trikuta
, the Vaishno Devi temple is considered to be one of the holiest places in India. There is also an influx of foreign tourists, apart from the domestic pilgrims turning out in hundreds, to get a darshan of the holy Mata. Zest for the unknown attracts the adventurous foreigners, since there's a lot unexplained phenomenon and myths that surround Vaishno Devi Temple. For instance the natural rock formation or pindies, as they are popularly called, leaves one dumbfounded. The rock forms of Laxmi, Kali, and Saraswati are the only idols that one can find in the shrine.
The shrine of Vaishno Devi is not the last point of pilgrimage. One has to travel uphill to Ban Ganga, where it is believed that, the divine Mata quenched her thirst. A six kilometers travel further, will bring you face to face with another shrine, Ardhkunwari. Mythology says that, Mata Vaishno Devi hid in this cave while trying to elude a demon. Tour to Vaishno Devi Katra is replete with mythology all the way. Perchance it is the quality of mythology that gives the whole place a mystical charm of its own.
Aghar Jitto
Just 5 km away from Katra is Aghar Jitto, the Shrine of Baba Jitto, a devotee of Mata Vaishno Devi and a revolutionary who led a campaign against the feudal order. According to legends, a dip in the holy spring water, flowing in front of the shrine, does miracles to pre-natal women for safe delivery of children. A path from here leads to Shri Mata Vaishno Devi.

Dera Baba Banda
At about 30 kms from Katra lies this major Hindu-Sikh pilgrimage centre. Baba Banda Bairaagi was Guru Gobind Singh's favourite 'Saint-soldier', who had the gurudwara constructed on the banks of river Chenab, where he spent his last days.
Baba Dhansar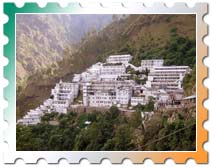 Located 10 kms from Katra (1 km on foot) is Baba Dhansar, a beautiful and cool picnic spot. Here, a huge spring gushes out of the mountainside in a thick grove of trees and forms a number of small waterfalls before flowing into the holy Banganga. Next to the spring in a small grove in the rock face is a naturally formed 'Shivling' on which droplets of water fall naturally all the year round. A major 'mela' (fair) is held here during Shivratri.
Shiv Khori
This holy cave is nearly a kilometre long and houses a 4 ft high, naturally formed 'Shivling'. It is considered second only to the shrine of Mata Vaishno Devi in religious importance. There are stalactites & stalagmites dripping milky limestone water from the ceiling. Situated at a distance of about 100 kms from Jammu and about 75 kms from Katra, Shiv Khori hosts a major fair on Shivratri day every year.