Gulmarg (The Meadow of Flowers)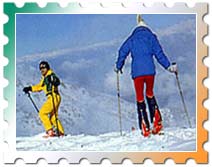 Gulmarg
is also known as
"The Meadow of Flowers"
and in spring is just like that. With pretty views and green undulating country, Gulmarg is often called
Switzerland of India
. During winters it is famous for Skking and often National level skiing competition takes place here. Gulmarg has the fine 18 hole Green Golf course and is highest in the world (2680 meters) and is one of the India's prime winter ski resorts. The Cable car "Gondola" has 60 cable cons that ferry the tourists right upto the height of 3090 meters from 2690 meters at the base (Gulmarg). A circular road, 11 Km in length, runs right round the Gulmarg through pleasant pine forests with excellent views over the Kashmir Valley. Nanga Parbat is visible to the north and Haramukh and Sunset Peak to the south-east.
The meadow of flowers "Gulmarg" is in the shape of a bowl, it is 3.5 Km in length and 1 Km wide. It comprises grassy slopes, with a small scattering of houses. The bowl is encircled by firclad hills, and in the distance are snow covered peaks.
Golf Club:
Gulmarg has long been famous for golfing. The 18-hole Gulamrg Golf Club, in existence for 100 years, has records dating from that time which make fascinating reading. The culb house, with its sloping roof, has a rare character. Temporary membership is permitted on payment of a daily fee. It is possible to hire clubs from the stock available at the Tourist Office next door.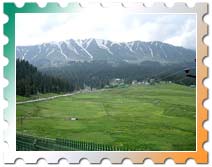 Khilanmarg:
This smaller valley is about 6 Kms walk from Gulmarg. The meadow, carpeted with flowers in the spring, is the site for Gulmarg's winter ski runs and offers a fine view of the surrounding peaks and the Kashmir valley.
Alpather:
A high mountain lake is about 13 Kms from Gulmarg at the foot of the 4511 meters Apharwat Peak, this lake is frozen until mid-June and even later in the year one can see lumps of Ice floating in its cold waters.