Pahalgam (Valley of Shepherds)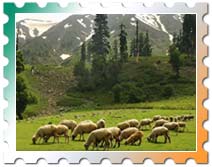 Pahalgam
also known as "
Valley of Shepherds
" is located on the beautiful river Lidder which flows right through the town. Pahalgam is surrounded by soaring, hill slopes covered with groves of pine, with snow capped peaks rising behind them, providing a scenic backdrop. Pahalgam is about 96 Kms. east of Srinagar and at an altitude of 2130 meters, turned into the popular holiday resort it is today, it was the preserve of nomadic shepherds. The beauty of Pahalgam remains unspoilt. Pahalgam is famous place for Indian Film Industry ( BOLLYWOOD) and it is famous for its beautiful scenery, flora and fauna, springs and streams.
Around Pahalgam are many places of interest, and because the resort is set between fairly steep hills, it is worth hiring a pony rather than walking.
Pahalgam Tourist Destinations:
Baisaran:
The most beautiful of these is the huge, undulating meadow "Baisaran" surrounded by thickly wooded forests of pine. A further 11 Kms takes you to " Tulian Lake" at 3353 meters. It is covered with ice for much of the year.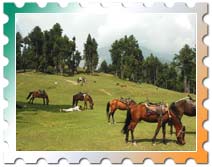 Mamaleswara:
On the opposite bank of Lidder river, this small Shiva temple with its square stone tank is thought to date back to the 12th Century.
Aru:
The Pleasant little village of Aru makes a very interesting day walk, following the Lidder river for 11 Kms upstream. The car also goes upto Aru and is actually first stage of the Kolahoi Glacier trek.
Chandanwari:
It is about 16 Kms. from Pahalgam and takes about 1 hour in Car to reach there or a full day to go and come back on a pony. Chandanwari is the first stage of Shree Amarnath Ji Yatra ( The Holy Yatra).